Boise is a growing city that is friendly toward the Gay, Lesbian, Bisexual and Transgender community. There are abundant opportunities to meet and socialize with others in your community. I can give you the insider's view on those venues that may not have an online presence.
I'm proud to announce that I am officially a member of the National Association of Gay & Lesbian Real Estate Professionals. Established in 2007, The National Association of Gay and Lesbian Real Estate Professionals (NAGLREP) is a mission driven 501(c)(3) non profit organization that is part business and part advocacy.
Visit My Official NAGLREP Profile Here.
Here's a PDF version of the full 2018-2019 LGBT Real Estate Report. (Click the image below for the full pdf)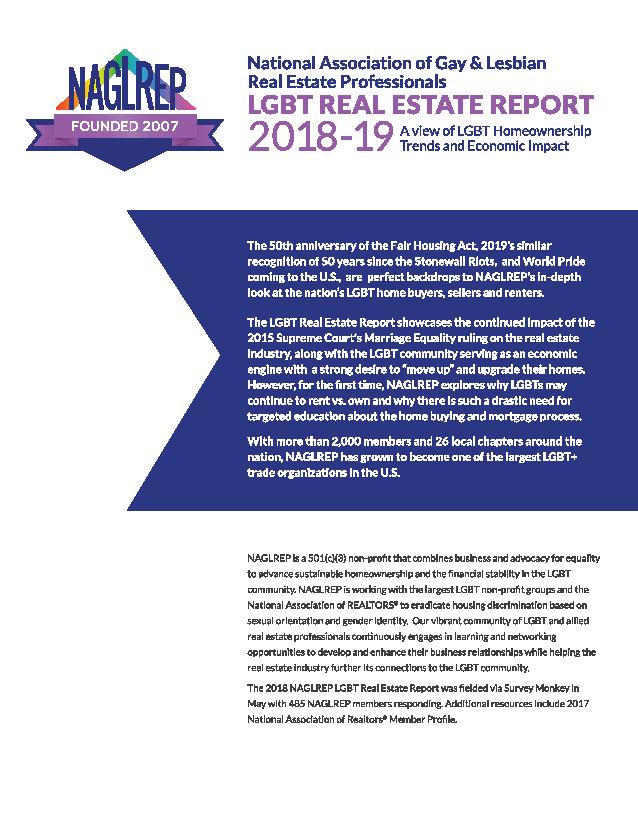 Probate Resources:
Have probate property issues? Ed can help with that too. Contact him here or check out his probate website here for more information. You can download your free probate toolkit for administrators and executors today!
General Resources:
Start with The Community Center, your one-stop shop for local news and events and former publisher of Diversity.
Here are some more resources:
Ada County Human Rights Task Force-ACHRTF is a collective voice and resource for human rights in Idaho, working to make Ada County and Idaho a place where all people are included and celebrated. With educational forums, activities, victim outreach and support for Idaho's diverse population. P.O. Box 1515, Boise. www.humanrightsidaho.org/achrtf/.
BGLAD-Boise State University Bisexuals, Gays, Lesbians and Allies for Diversity. Boise State University. For information, email: boisebglad@gayidaho.com.
Drugrehab.com LGBTQ Help Center
Drugrehab.com Alcohol Addiction Help Center
​
Can't find what you're looking for? Let me know.